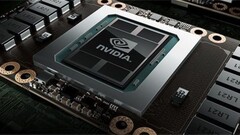 If the past few launch cycles are anything to go by, Nvidia is all set to reveal the laptop version of Ada Lovelace graphics cards at CES 2022. A recent leak shed light on some of the SKUs, which include an AD103-based GeForce RTX 4090. Its younger sibling, the GeForce RTX 4080, has now shown up on Geekbench's OpenCL benchmark databas alongside a yet-to-be-announced Acer Laptop featuring an Intel Core i9-13900HX. 
The graphics card scores 178,038 in its maiden Geekbench run. As expected, it brings a remarkable improvement over the GeForce RTX 3080 laptop, which scores around 138,000 points in the test. The Ada Lovelace graphics card's performance is closer to that of the GeForce RTX 3080 desktop (~180,000). Its retail variant could match, or even outperform the Ampere SKU with some extra TGP headroom and stable drivers.
Geekbench also sheds light on some key GeForce RTX 4080 laptop specs, such as a boost clock of 2.01 GHz, 12 GB of VRAM and 58 SMs (7,424 CUDA cores). A previous report estimated its TGP to be between 150W to 175W plus an additional 25W dynamic boost. Like always, the actual values will be determined on an OEM-by-OEM basis, so it's best to check spec sheets before committing to a purchase.
Buy the Asus ROG Strix Scar gaming laptop with a GeForce RTX 3080 on Amazon

I've been an avid PC gamer since the age of 8. My passion for gaming eventually pushed me towards general tech, and I got my first writing gig at the age of 19. I have a degree in mechanical engineering and have worked in the manufacturing industry and a few other publications like Wccftech before joining Notebookcheck in November 2019. I cover a variety of topics including smartphones, gaming, and computer hardware.