Perion Network (NASDAQ: PERI) is emerging as a stand-alone play on digitization and a potential takeover target for more prominent players. It's Wildfire platform and a suite of applications connects web developers and content creators with a monetization network that can access all 3 digital ad channels. It even uses AI and has AI-powered applications. 
The shift to digitization and the need to monetize content drives the business, making it a growth story that names like Salesforce.com (NASDAQ: CRM) or even Microsoft (NASDAQ: MSFT) might want to own. The company's revenue is growing at a double-digit pace in 2023 and is expected to top $1 billion within the next few years. This company could double in size within the next 5 years and is trading at a ridiculously low valuation. 
Perion Network: A Deep-Value Growing Tech Stock 
Perion Network trades at only 13.5X this year's earnings and 11.5X next year, which is amazing given the growth outlook. The company is expected to produce 11% top-line growth next year and 13% bottom-line growth and is already showing clear momentum. The company released preliminary results for Q2 2023 that are above the Marketbeat.com consensus figures. The revenue projection of $176 is up 20% compared to last year and is nearly 400 basis points above the consensus.
The best news is that growth and deepening penetration is driving a wider margin which should produce a 40% increase in EBITDA. The EBITDA margin should come in about 400 basis points above last year's level and is expected to remain strong, if not improve, in future quarters. 
"Our diversified and scalable business model has allowed us to capitalize on recent positive market indications, resulting in improved margins and market share gains. Based on preliminary data suggesting stronger than initially anticipated growth, we will provide an update to our annual outlook when we report our financial results on August 2," said Tal Jacobson, Perion's incoming CEO. The takeaway is that they will raise guidance when the company reports earnings. As good as it is now, the consensus outlook is too weak, and the valuation is even better than it appears. 
The Sell-Side Is Stepping Up Its Involvement In Perion 
The sell-side interest in Perion is providing support for the stock. Marketbeat's consensus rating has slipped from Buy to Moderate Buy over the last year, but the number of analysts covering the stock has doubled to 4 (not a lot, but still significant), and the price target is trending higher. The consensus price target is higher than last month, last quarter, and last year and may trend higher over the summer due to the preliminary results.
Marketbeat.com's analyst tracking pages haven't picked up any new revisions or coverage since the preliminary results were released but rest assured they are on the way. As it is, the consensus target is near $40 and implies about 20% of upside for the market. That price target is consistent with long-term resistance and could lead to another 20% upside if crossed. 
Institutions are more bullish on the stock. The institutions have been buying on balance for 12 consecutive quarters, and their activity is ramping. The activity ramped to a record high in Q2 and has their ownership up to 58%. If this trend continues, the stock price should follow suit. 
The weekly chart favors higher prices and shows support at the $32 level. If the market follows through on the signal, the stock should increase to the recent high near $40. That level marks a significant point of long-term resistance, so it may be challenging to cross. If the market can get above $40, it could hit $50 quickly. If not, Perion will remain range bound at current levels until later in the year, if not longer.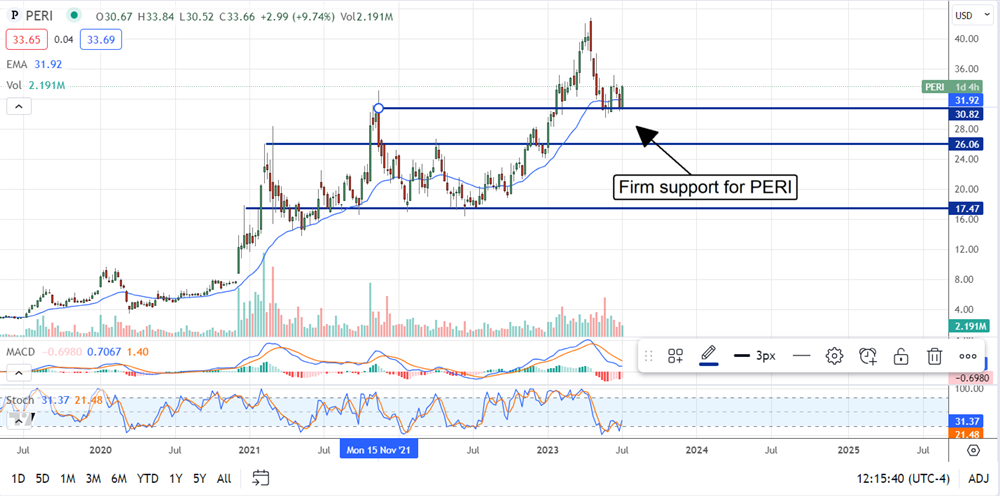 The views and opinions expressed herein are the views and opinions of the author and do not necessarily reflect those of Nasdaq, Inc.