What's the backbone of any connected home? You might be surprised to learn that it's your router. You may need a modem to connect to the internet, but your router ends up doing all the work to deliver that internet to your devices: your phone, for one. And guess what helps your iPad or your Kindle connect? Yep, your router. From binge-watching the latest series to playing online games, telecommuting, a top-notch router is massively important. But there are tons to choose from. And choosing the right one can be difficult. 
Related: How we select our products
The best internet routers in 2023 offer a stable connection, expansive coverage, robust security and user-friendly tools. But your own lifestyle matters, too: How big is your home? A larger house or one with multiple floors might need a router with enhanced range. How many devices will be connecting simultaneously? Larger families may want a router that has additional bandwidth support. 
Our top router pick: Netgear Nighthawk RAXE500
Additionally, you'll want to make sure that your router is compatible with your smart home devices. Lastly, be sure to check reviews and ask trusted friends and family to gauge each router's real-world performance, how easy it is to set up, and how reliable customer service can be. You'll also want to consider the number of ports, in the event that you want to make hard-wired connections, the speed your router can go up to, and what type of range it supports. All of these things are critical to making a buying decision. 
Whether you just casually browse the internet or you're a hardcore user, there's a router that can handle everything you need. Not sure where to start, or just need a nudge in the right direction? Read on for our curated picks for the best internet routers in 2023.
---
The best internet routers in 2023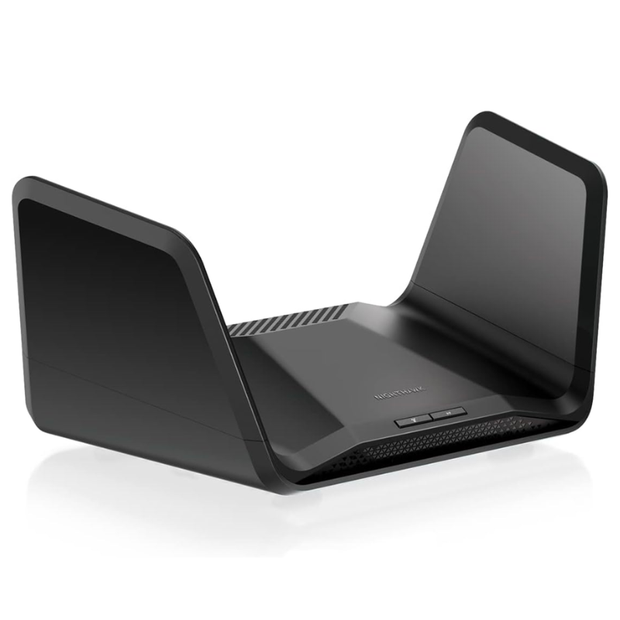 The Netgear Nighthawk RAXE300 is a force to be reckoned with. If you're tired of weak signals in yards or garages, this tri-band router has extensive range, especially across the 2.4 GHz and 5 GHz spectrum. That means it's more than equipped to serve up reliable connectivity and speed. 
At a glance, you can see part of what makes it so special. It's a sleek, modern device that doesn't have the clunky appearance many other routers suffer from. It resembles a stealth fighter more than a router, which helps to set it apart from the rest of the pack. With its 6G WiFi capabilities, it's even prepared to tackle gigabit internet speeds if you're lucky enough to have an ISP that offers them. 
But there are some drawbacks. Its associated app could benefit from a facelift, offering a bit more in the settings department. It also tends to lean on the technical side when it comes to setup and configuration. It's also worth noting the limited quality-of-service settings. Tech-savvy folks may feel more comfortable during setup, but that doesn't mean it's so prohibitive that newbies can't set it up. 
It's more than evident that the Nighthawk RAXE300 is ahead of the pack. Whether it's aesthetics, power, or coverage you're after, it's a strong contender, and one of the best, most reliable routers you'll find. 
Why we like the Netgear Nighthawk RAXE300:
Unique design that sets it apart from other routers on the market. 
Excellent range and speed that should work with any connection, including 6G WiFi and gigabit. 
Extensive technical options for those that want to tinker with them. 
---
Runner-up: Asus RT-AX86U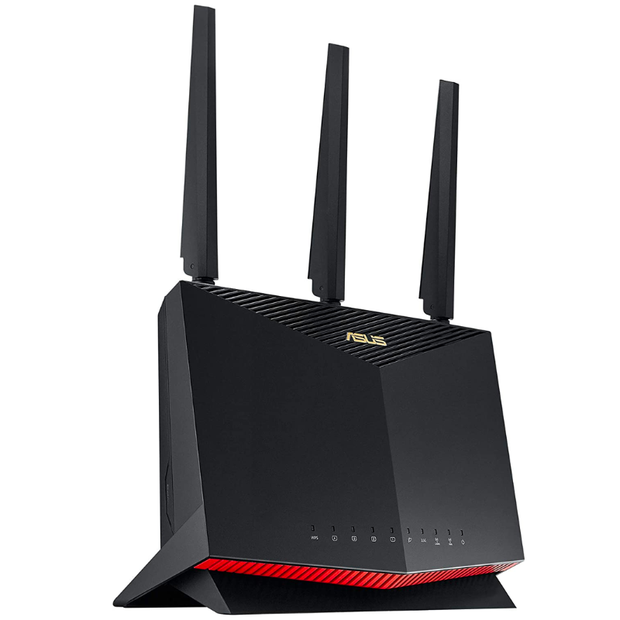 The Asus RT-AX86U is one of the most impressive Wi-Fi 6 routers you can find right now. It can blast through regular internet browsing, accommodate multiple devices putting the internet under heavy load, and stand up to regular gamers who clock long hours on demanding titles.
Its performance metrics are outstanding, clocking impressive speeds of over 900 Mbps from a 15-foot distance. But it's not just about speed. Its range punches through walls and floors without breaking a sweat.
Tailored equally for gamers and general usage, its myriad of features and ports come without the hefty price tag often seen on high-end gaming equipment, but it's absolutely worth adopting if you or anyone in your household games regularly. 
Additionally, with in-built lifetime protection against security threats and a two-year warranty, it's a comprehensive solution for anyone looking for both performance and security. 
Why we like the Asus RT-AX86U:
Blazing fast speeds perfect for heavy internet users and gamers.
Great for short and long distances, including those in bigger houses. 
Lifetime protection against security threats and a two-year warranty. 
---
Mid-budget alternative: TP-Link Archer AX6000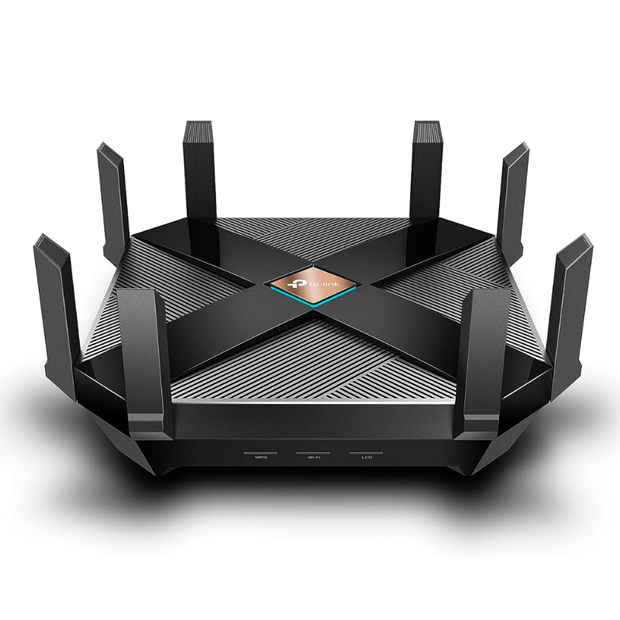 If you don't need the best and the brightest router, you can rein things in and opt for the TP-Link Archer AX6000. It's a testament to finding a balance between value and performance; it can still deliver the kind of speed and range you need, but at a lower price.
Regularly priced $100 below its WiFi 6 counterparts, this router offers substantial bandwidth that caters to everyone, except maybe the most hardcore gamers. It can power through some serious Netflix binge-watching, but if you plan on diving into some overnight Fortnite marathons or downloading large files the same time as everyone else in the house, you'll want to spring for a different model.
For everyone else, this cheaper option will do the trick. With router-based security and 8 Ethernet ports, the Archer AX6000 doesn't just excel at WiFi, but also at wired connections.
Its design is minimalistic, with a single LED indicator that shows you when everything's running smoothly. It also has a WPS key for quick setup with compatible pieces of tech, and an option to turn WiFi transmissions off, essentially converting it into a purely wired router. It's all that and more — at a price that's much more affordable than the competition. 
Why we like the TP-Link Archer AX6000:
The price is right, at typically $100 less than its more expensive brethren.
It has multiple ports that make it perfect for use as a wired internet connection. 
Its option to turn WiFi off completely makes it great for use solely as a wired router. 
---
---
Best router for gamers: Asus ROG Rapture GT-AX11000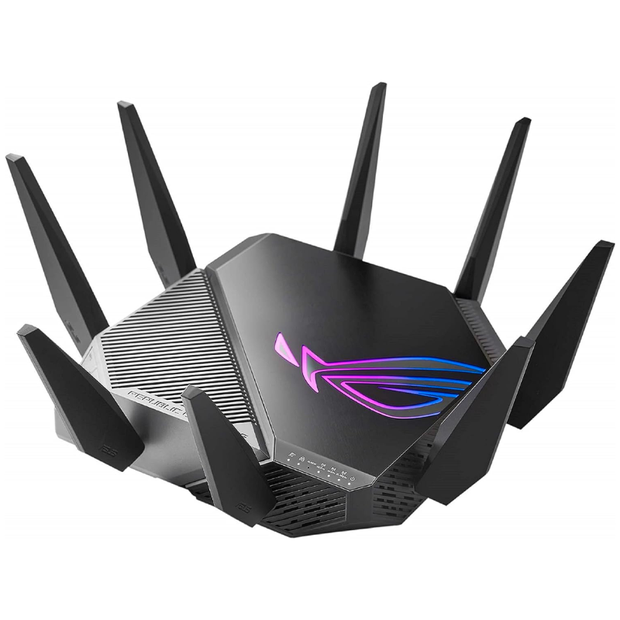 The Asus ROG Rapture GT-AX11000 is a gamer's dream come true. In addition to its imposing exterior that looks like it was ripped straight out of a gaming PC, it delivers incredible range and speeds that don't falter.
With its larger size and eight antennas, its performance speaks volumes, especially with its impressive 10.8Gbps max throughput. Equipped with a tri-band design, four Gigabit LAN ports, a 2.5G Ethernet connection, and dual USB 3.0 ports, it can handle just about anything you try to put it through. That means long gaming sessions, binge-watching your Netflix faves, and anything else you can think of doing online. It'll keep you online and help you enjoy your internet service's blinding speeds to their highest potential.
For those who crave customization, this router's gaming-specific enhancements are a treat. Pair it with other Asus routers to create a sprawling mesh network, and enjoy unrivaled speed and connectivity that echoes throughout your entire home. 
This may be one of the most premium choices that you'll find (and pay for), but it nearly guarantees hardcore gamers a leg up on the competition. Still, its price tag is eye-wateringly high. Go for this router if you absolutely must have one of the best on the market for gaming purposes. 
Why we like the Asus ROG Rapture GT-AX11000:
It's perfect for hardcore gamers who want some edge on the competition. 
It comes with eight antennas and boasts impressive performance with 10.8Gbps max throughput. 
It's premium in all respects of the word, boasting blinding fast speeds and long range connectivity. 
---
For a tight budget: Linksys EA8300 Max-Stream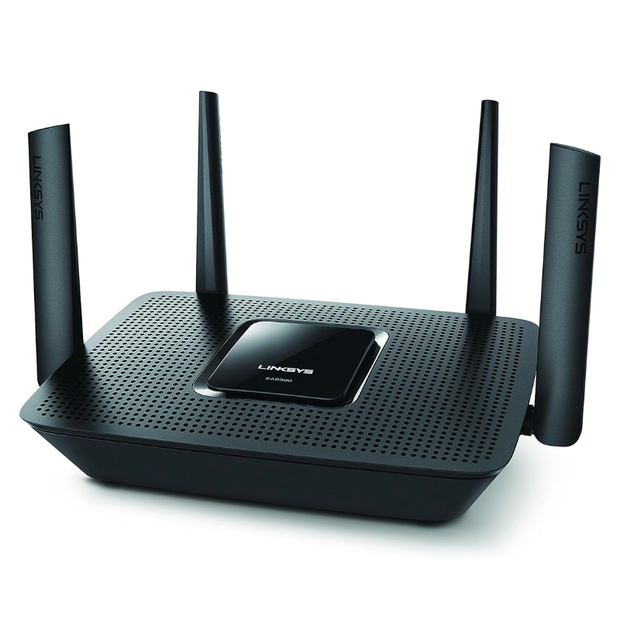 Sometimes you just don't need the best of the best. Some midrange options at low prices will work just as well. The Linksys EA8300 Max-Stream is the perfect pick for anyone watching their budget.
As a compact tri-band router, it's equipped with an arsenal of tools anyone can fine-tune for peak performance. But it also works just fine out of the box with default settings and can provide anyone with the connectivity they need.
While best suited for smaller spaces, it still manages to impress with its range and high speeds at such a low price. The flexibility it offers – be it bandwidth prioritization for gaming, streaming, or deploying parental controls – is accessible both from desktop and mobile devices.
Moreover, it's a much smaller, less flashy router that doesn't look like the "gamer" edition that some of its contemporaries do. And if that's important to you, you'll find a sturdy, reliable, and great-looking router here. If you want the ability to customize your router and enjoy seamless connectivity at a low price, the Linksys EA8300 Max-Stream is a great choice. 
Why we like the Linksys EA8300 Max-Stream:
It's more affordable than many of the other routers in its class with comparable performance. 
It doesn't have the same "gamer" look to it that some users may not prefer. 
It has a wide variety of customization tools that seasoned users can take advantage of. 
---
What is an internet router?
An internet router, or just a "router," is a device that connects your home network to the internet. It manages data traffic and makes sure that each device in your home, including smartphones, laptops, TVs, and more receive information from the web. The router also assigns unique addresses to each device to differentiate them. 
Additionally, many routers come with built-in firewalls to enhance security, protecting your devices from bad actors. By managing both incoming and outgoing traffic, routers can ensure a stable internet connection for all the devices you connect to it.
What's the difference between a modem and a router?
A modem and a router are different, but they're both necessary if you want to connect to the internet and use wireless devices. A modem is the device that communicates directly with your internet service provider and brings the internet connection into your home. Once the internet connection is established through the modem, the router then takes over to bring this connection to various devices in your home, either wirelessly or through wired connections. 
The modem brings the internet to your "doorstep," and the router makes sure that the internet is accessible for devices inside your house. Most routers come with security features that help protect your devices from potential online threats, while also managing traffic. Sometimes, you'll find devices that combine both the modem and the router into one unit, which people typically refer to as gateway devices or modem-router combos.
What features should you look for in an internet router?
When you're in the market for an internet router, there are a few things you should keep in mind. Consider the speed. Routers often come labeled with terms like "AC1200" or "AX6000." In simple terms, a higher number often indicates a faster potential speed. However, you should make sure that speed aligns with what your actual internet service plan offers. You can't "speed up" your internet by just buying a faster router. 
Range is another critical factor, especially if you have a large home or thick walls. Some homes might benefit from routers with a "mesh system," which uses multiple units spread throughout the house for improved. Further, plenty of modern routers offer built-in features like firewalls, parental controls, and sometimes even antivirus protection. Regular security updates can also be a bonus to keep out anyone who might be trying to get into your network. 
Also, the number of Ethernet ports on a router can be a deciding factor. Their wired connections are often more stable and faster, which is a boon for those who work at home or even anyone who games online a lot. You'll also want to consider whether the router is dual or tri-band. That means that the router can broadcast on multiple frequencies, which can cut through potential congestion when several devices are online at the same time. 
Easy router setup makes the entire situation much less of a headache, too. Many modern options come with easy-to-use apps or user interfaces. And of course, there's the matter of cost. Routers come at all different price ranges so finding a balance between your needs and budget is important. But as always, before making a final decision, you should either read reviews from those you trust, ask around, or set out all your needs and tally them up against the choices you're deciding between. 
Why is an internet router important?
First, it acts as a central point of access to the internet for multiple devices, such as smartphones, laptops and smart TVs. That means that all your devices can connect to the internet simultaneously without their own individual connections. In addition to managing multiple connections, routers enhance the security of your online activities. They come with security features that protect your devices and data. 
Routers also assign unique addresses to each device, ensuring that data goes to the correct device. Moreover, many modern routers optimize the internet speed and performance, ensuring you get a stable and efficient connection. In essence, an internet router acts as both a hub and a shield for your internet activities, making it a vital component for any household or business wanting a seamless and secure online experience.
What is WiFi 6 and WiFi 6E?
WiFi 6 and WiFi 6E refer to the latest generations of wireless internet technology, designed to improve how devices connect to the internet. WiFi 6, technically known as 802.11ax, is a step up from the previous version, WiFi 5. It offers faster speeds, especially in crowded areas, which makes for a more smooth and uninterrupted connection. It's particularly beneficial in homes with several devices since it's designed to handle multiple connections. 
WiFi 6E takes this a step further. WiFi 6E has all the benefits of WiFi 6, but the "E" stands for "Extended." This basically means it has even more bandwidth. As a result, devices using WiFi 6E experience less interference and even faster connections. So, when considering new devices or routers, opting for those compatible with WiFi 6 or WiFi 6E can offer a more reliable and enhanced internet experience.
Should you leave an internet router on all the time?
Leaving an internet router on all the time is safe to do — just so you don't have to worry about getting up all night and turning it on and then turning it off again. Keeping it on ensures connection to the internet without interruption, and that's especially important for security systems or smart-home devices. Additionally, frequently turning a router off and on might lead to wear and tear over time. 
Of course, there are a few things to keep in mind. Routers can get hot, so it's important to place yours in a well-ventilated area to prevent overheating. Also, for security reasons, you should occasionally restart your router. This can clear certain types of malware or potential vulnerabilities, and you of course want to accept updates then they come available. 
How do you know when it's time to upgrade your router?
Knowing when to upgrade your router can depend on a few things. One major sign is when your internet speed starts dropping and falling short of the speeds you're paying for each month. If you've done all the typical troubleshooting and determined that your modem isn't the issue, it might be your router. As routers get older, they might not support the faster speeds that newer internet packages offer. 
Another indicator is if you have a lot of dropped connections, or if a signal doesn't cover your entire home anymore — if it ever did. An older router may struggle to handle the load of multiple devices on the same network as well. Security is a huge concern too. If your router no longer gets firmware or security updates from its manufacturer, it could leave your network vulnerable. All of these factors can help you determine when it's time to consider an upgrade so you can get the most possible out of your internet service and wireless network. 
---
Related content from CBS Essentials