WHITEHOUSE — Although English is not his first language, Whitehouse High School senior Sebastian Toro doesn't feel excluded from classes or interacting with his peers. And it's all due to the Timekettle WT2 Edge, the latest technology that provides real-time translation.
"I am very grateful for the device and even more so for the people around me who are helping me day after day so that I can learn this language and get ahead in this country," he said.
Inside a little white clamshell nestles two earbuds that very much resemble Apple's AirPods; however, these earbuds don't occupy the ears with Taylor Swift's latest album or a podcast on true crime.
"This technology is still very new… it's not originally designed for the classroom setting, it's more for tourism and business," said Whitehouse ISD ESL Services Coordinator Pedro Tamez. "But I have worked with the company that developed a product and they've been very responsive. They've come and visited the classrooms, they've spent time trying to understand the type of use and the setting and to really tailor the software to better fit the kind of need that we have."
As Toro pops in the earbuds into his ears and gentle taps the side, he opens the Timekettle app on a tablet to prepare for conversation that allows him to communicate as a non-English speaker, they can ask someone to speak into the tablet and the translation will be relayed through the earbuds in real time.
"I can talk to you if you are from Japan, and there are students here from Japan, I can interact with them through this as well," Toro said. "It's very helpful and neat."
Thanks to the Whitehouse ISD Education Foundation, a grant was awarded to fund 25 Timekettle bundles to students who would benefit from less barriers to learning and communicating.
"Right now we've assigned 23 of the 25 throughout the district," Tamez said. "So to put that in perspective, last year during the 22-23 school year, we had a total of 12 non-English speaking students, so as a buffer, I went ahead to secure funding for 25 of these as a way to kind of plan out for some growth. Hopefully, that will get us through a year or two and then we can see if this technology is really going to be beneficial and it may be something that we have as a part of our ESL program."
According to Tamez, there are only just a handful of districts across the country that have had the opportunity to implement the technology.
"We're no longer just putting things into Google and translating and getting a literal translation," he said.
When the app is activated, it pairs with the Bluetooth earbuds, but it pairs independently, allowing one person to have one earbud in their language, and another person to have the other earbud in their language.
"It's producing an accurate translation… the longer we speak and the longer our conversation lasts, the more and more accurate it becomes," Tamez said. "It's a really unique part of the service."
Timekettle has three modes: Touch, Listen and Speaker.
In Touch mode, they work like a walkie-talkie, but for two different languages. Each person wears an earbud and they talk to each other without having to wait for the translation.
The Listen mode is useful when someone is giving a lecture or speech in another language, and almost works like a personal interpreter. You keep a device close to the speaker and the earbud translates everything that is being said.
In Speaker mode, allows one to speak in their own language and the app translates your speech to the other person. Whatever the person replies also gets translated back to you, and you can hear it through the earbud.
However, even though there are sanitizing kits available, not everyone may be keen on sharing someone else's earbud. Timekettle uses artificial intelligence and requires the ear buds to be paired to a device, such as a tablet or a phone, which uses the microphone to pick up the conversation and translate to the desired language.
"This is much more accurate and it allows for much more fluidity in conversations," Tamez said. "In other words, with other types of translation that's available to anyone, you're translating small phrases, short sentences and really chopping up your communication that way."
The program even provides a dictation of the conversation.
"In the transcript, it will actually go back and redact itself something that's already been translated and you won't hear it repeated in your ear, but the written record of it will go back and it will edit itself to become more accurate based on the context of the conversation," Tamez said.
The wireless earbuds support up to six hours of listening and translating per charge.
"The earpieces themselves independently hold a charge for anywhere from an hour and a half an hour and 45 minutes, then the clamshell has four more cycles of charging in it," Tamez said. "In essence, if this clamshell is fully charged and these are fully charged overnight, then (a student) could technically have translation in their ear for just about the entire day."
Not only can the translation app pick up 40 languages, it can also pick up 93 accents.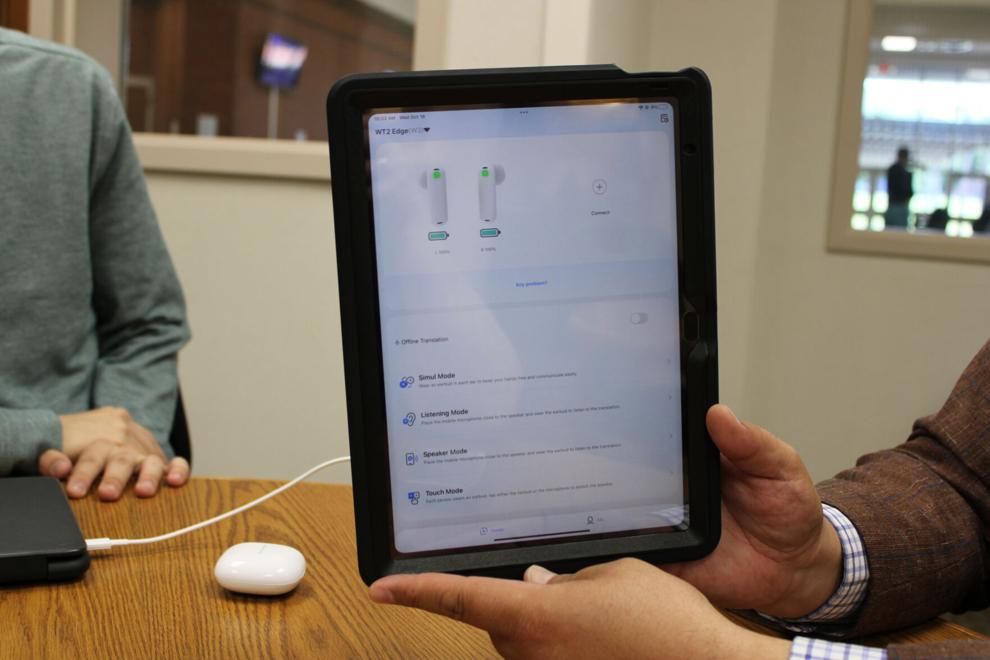 "Timekettle is such a great opportunity for non-English student to be able to interact with their peers, understand what's happening in the classroom setting and be functional especially in that educational setting," Tamez said. "Through the use of this new technology, the teacher can provide instruction the way they normally do in their classroom."
While there is a 95 percent accuracy, there is a small delay of up to three seconds. Additionally, Wifi is needed for the translator device; however, it does support 13 offline translation languages packages, including English, Chinese, Japanese, Spanish, French, Russian, Korean and German.
The device also offers opportunities for the parents who experience language barriers to interact with staff and administrators.
"We quickly added that as a priority on the list of users so it's not just the students who come to us who can't speak the language," Tamez said. "So, we also have bundles assigned to the front offices of each of our campuses for whenever parents need to have communication with us."